Intuitive, Simple to Program without a PC
or Software, Shows Position/RPM on 4 digit
LED Display.


BEI H25 encoder series has literally 215 part numbers for
different resolutions. Combine these with various output
formats (3904, 7406, 3302, 681, 689, 7272, 4469 etc.) and you
literally have more than 1000 models. Dynapar is not that
different. This presents a major challenge to the user community,
particularly plants that have equipment coming from different
machine manufacturers. Plant stock room has to carry a large
inventory and it is not uncommon to not have the one you need
in an emergency.


To solve this problem, BEI has recently introduced its Omnicoder™
series. The problem with Omnicoder is two fold:


1. You have to unplug the output connector/cable, it takes a
computer software and special cable to program it and hence
it can only be done on the bench.


2. It is too expensive.


Smart-Encoder™, solves both these problems, you can program
the counts/rev while it is installed on the machine, without any
laptop, special USB cable or software. It has a LED display to
be able to check its operation on the spot as it shows counts
and RPM. On top of all this, Smart-Encoder™ costs less than
the current industry standard fixed count encoders from BEI
and Dynapar.


As can be seen from its specification, its mechanical as well
as electrical specifications are at par, if not better, than
these other encoders.
Size 25 drop-in replacement for BEI/Dynapar

(Mechanical & Electrical Form Fit & Function)
Robust, NEMA 4, Class I, Div II, Conformal Coating boards, Aluminum or Stainless Steel Housing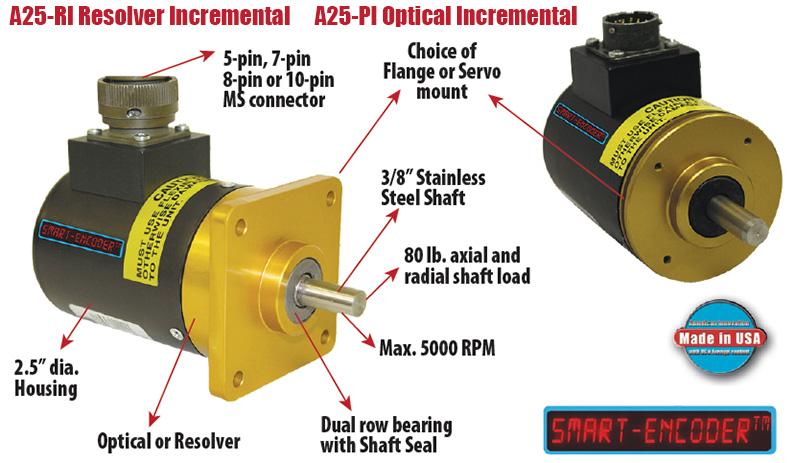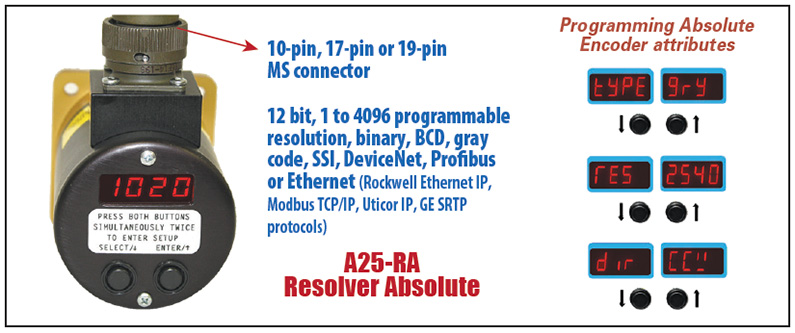 Specifications - Resolver Absolute
Electrical
INPUT POWER
Voltage: 18-30 VDC
Current: 250 mA @ 24 VDC exclusive of load High
Voltage: Min. 2.4 VDC TTL Compatible Low Voltage:
Max. 0.4 VDC TTL Compatible


OUTPUT DRIVERS
Line driver device: ET7272
Voltage: 30V/V = 18-30VDC (Vin = Vout) 30V/5= 5VDC
Max Output Current: 40mA
High Voltage: 30 VDC@ 20mA source current Low
Voltage: 5 VDC @ 20mA sink current

OUTPUT FORMAT
Gray Code/Gray Code Minus:
Programmable up to 4096
Binary/Binary Minus:
Programmable up to 4096
BCD: Programmable up to 1999

DATA SYNCHRONIZATION
Data Transfer input:
HIGH: Position data continuously updated
LOW: Position data latched at High to low transition
and remains unchanged until input goes High again


PROTECTION
Reverse Voltage Protected Inputs Short Circuit
Protected Outputs


POWER-ON SETTLING TIME
Upon power-up the outputs are tri-stated
for up to 100mSec.
Specifications - Optical Incremental / Resolver Incremental
Electrical
INPUT POWER
Voltage: 18-30 VDC
Current: 250 mA @ 24 VDC exclusive of load
High Voltage: Min. 2.4 VDC TTL Compatible
Low Voltage: Max. 0.4 VDC TTL Compatible


PROTECTION
Reverse Voltage Protected Inputs
Short Circuit Protected Outputs

POWER-ON SETTLING TIME
Upon power-up the outputs are tri-stated for up
to 100mSec.

OUTPUT FORMAT:
Incremental
Programmable up to 1024 Pulses Per Rev.

OUTPUT DRIVERS
Line driver device: ET7272
Voltage: 30V/V = 18-30VDC (Vin = Vout)
30V/5= 5VDC
Max Output Current: 40mA
High Voltage: 30 VDC@ 20mA source current
Low Voltage: 5 VDC @ 20mA sink current
ENVIRONMENTAL
| | |
| --- | --- |
| Housing | Size 25 (2.5" dia.) |
| Max. Starting Torque @ 25° C (oz. in.) | 5 (360.04) |
| Moment of Inertia (oz* in2) | 46.0 x 104 |
| Max. Slew Speed (RPM) | 5000 |
| Shaft Size | 3/8" |
| Max. Shaft Loading Axial and Radial: | 80 lb. |
| Bearing Life at Max. Mfr. Spec. | 2 x 109 |
| Shock | 100g for 11ms |
| Vibration | 20g to 2000Hz |
| Enclosure | NEMA 4/IP 66 |
| Operating Temperature | -10°C to 70° C |
| Storage Temperature | -40°C to 85°C |
Size 25 (Flange Mount)

Size 25 (Servo Mount)