Explosion Proof Dual Multi-turn Resolver
ATEX Certified Explosion Proof Dual Multi-turn
Explosion Proof, FM Approved

Autotech's series E8R resolver has FM approved explosion
proof housing and meets the requirements as per Class 1, Division 1, Groups B, C, and D.
ATEX Certified. What is ATEX?
It is a term commonly used to describe potentially explosive atmospheres (ATmosphères EXplosibles in French) and standard for protection systems and equipment. Two European directives, ATEX 99/92/CE and ATEX 94/9/CE, and international standards IEC 60079 and IEC 61241, harmonized with EN European standards, apply to this field.
What is a potential atmosphere?

According to ATEX, a potentially explosive atmosphere is defined as a mix of flammable substances in the form of gas, vapour, dust (cloud deposit) which, in air under normal atmospheric conditions, can completely or partially catch fire in the form of an explosion when exposed to a source of ignition. Since July 1st, 2003, the European directive ATEX 94/9/CE makes compulsory the use of certified component, equipment or assembly when intended for use in potentially explosive zones, gaseous or dusty atmospheres.
Part Numbers

Size 40 Explosion Proof

Size 40 = 4.0" (101.6 mm) diameter housing

E8R-RL210- X1 MC

Explosion-proof; Dual-Brushless resolver; conduit fitting; multi-turn; FM approved Div. 1, Class 1, Groups B, C, and D; terminal connections; 5/8" (15.88 mm) shaft dia., built-in gear train between the two resolvers

x1 = Gear Ratio Standard Ratios:
064: 64:1 Gear Ratio
128: 128:1 Gear Ratio
Specifications
Mechanical
Resolver
E8R-RL101
E8R-RL210-xxxMC
Housing Size
Size 40 , Explosion
Proof (4.0² dia.)
Max. Stating Torque @ 25 deg. C (oz-in)
8
Moment of Inertia
(gm/cm2)
45
Max. Slew Speed (RPM):
5000
Shaft Size
5/8"
Max. Shaft Loading:
Axial (lbs):
Radial (lbs):

50
100
Bearing life at Max.
Mfr. Spec. (Rev.)
2x109
Approx. Weight (lbs):
8

Environmental

Shock
200g for 11 mSec.
Vibration
20g to 2000Hz
Operating Temperature
-67 to 248° F
Storage Temperature
-85 to 302° F
Enclosure
NEMA 4X Class I,
Div I, Groups B, C, D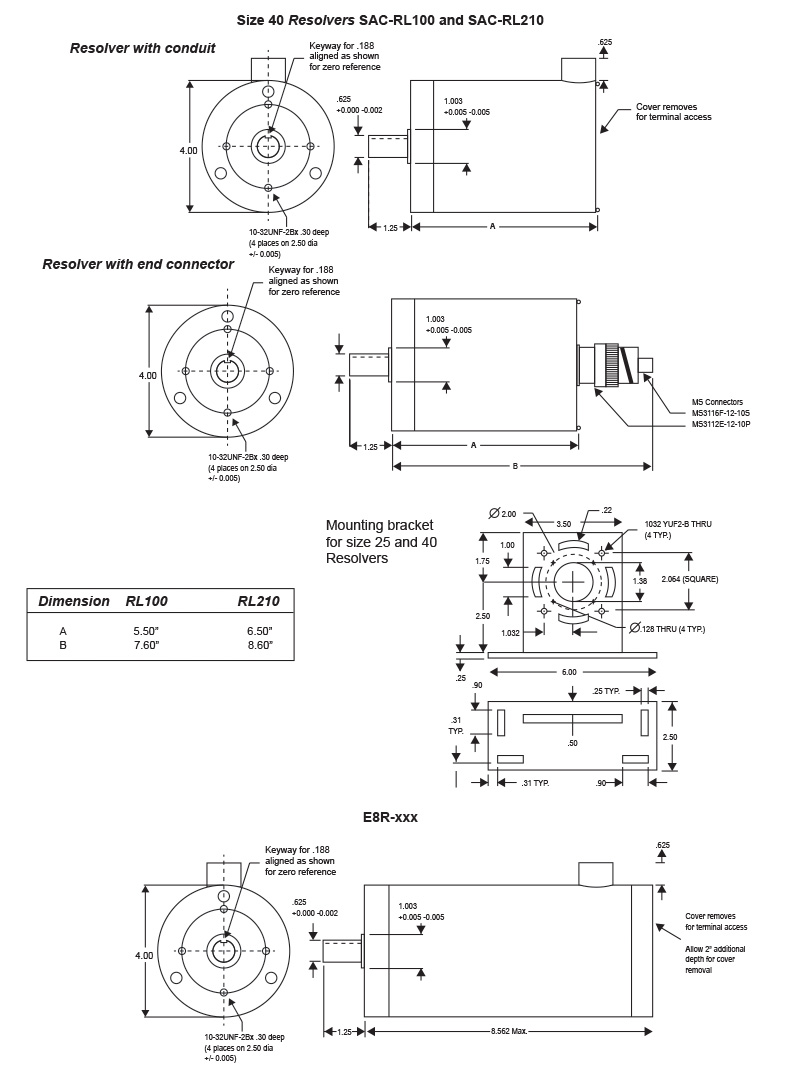 For ordering information or sales/technical support, call 1-800-832-3647 or email us at support.auto@avg.net.
We accept