Size 40 Single-turn Resolver
RL100 Resolver - The Workhorse of the Industry

AVG Automation's model RL100 resolver is the most rugged resolver in the industry today.  AVG Automation has over 25,000 of these resolvers operating with extreme reliability in highly demanding applications in automotive, can-manufacturing and packaging industries.  Rugged, industrial housing, heavy-duty, double row, ball bearing and an internal flexible coupling lend to an extremely reliable design.
Part Numbers
Sample Part Numbers: SAC-RL100-010 and SAC-RL100-M11
Size 40 Brushless Resolver

Size 40 = 4.0" (101.6 mm) diameter housing

SAX1-RL100-x2
Brushless resolver, single-turn, 5/8" (15.88 mm) shaft dia
x1 = NEMA Rating

Brushless resolver, single-turn, NEMA 13, 5/8" shaft dia., with MS connector for wiring

C:

NEMA 13

4:

NEMA 4

9:

NEMA 4X

x2 = Wiring

010:

With terminal block wiring

M11:

With MS Connector

M19:

With 19-pin MS connector on side for wiring

Substitute 0 in SAX1-RL100-X2 with 2 for higher accuracy resolver.
Specifications
Electrical
Frequency: 2250 Hz
Input voltage: 1.88 V
Input current: 6 mA
Input power: 6.5 mW watts
Rotor impedence with stator
Open circuit ZL0: 180+ j256 ohms
DC resistance (Rotor): 18.3 ohms
Output voltage (Stator): 2.63 V +/- 5%
Transformation ratio: 1.400
Mechanical

Resolver
SAC-RL100
SAC-RL210
Housing Size
Size 40
(4.0² dia.)
Max. Stating Torque @ 25 deg. C (oz-in)
8
Moment of Inertia
(gm/cm2)
45
Max. Slew Speed (RPM):
5000
Shaft Size
5/8"
Max. Shaft Loading:
Axial (lbs):
Radial (lbs):

50
100
Bearing life at Max.
Mfr. Spec. (Rev.)
2x109
Approx. Weight (lbs):
6

Environmental

Shock
200g for 11 mSec.
Vibration
20g to 2000Hz
Operating Temperature
-67 to 248° F
Storage Temperature
-85 to 302° F
Enclosure
NEMA 13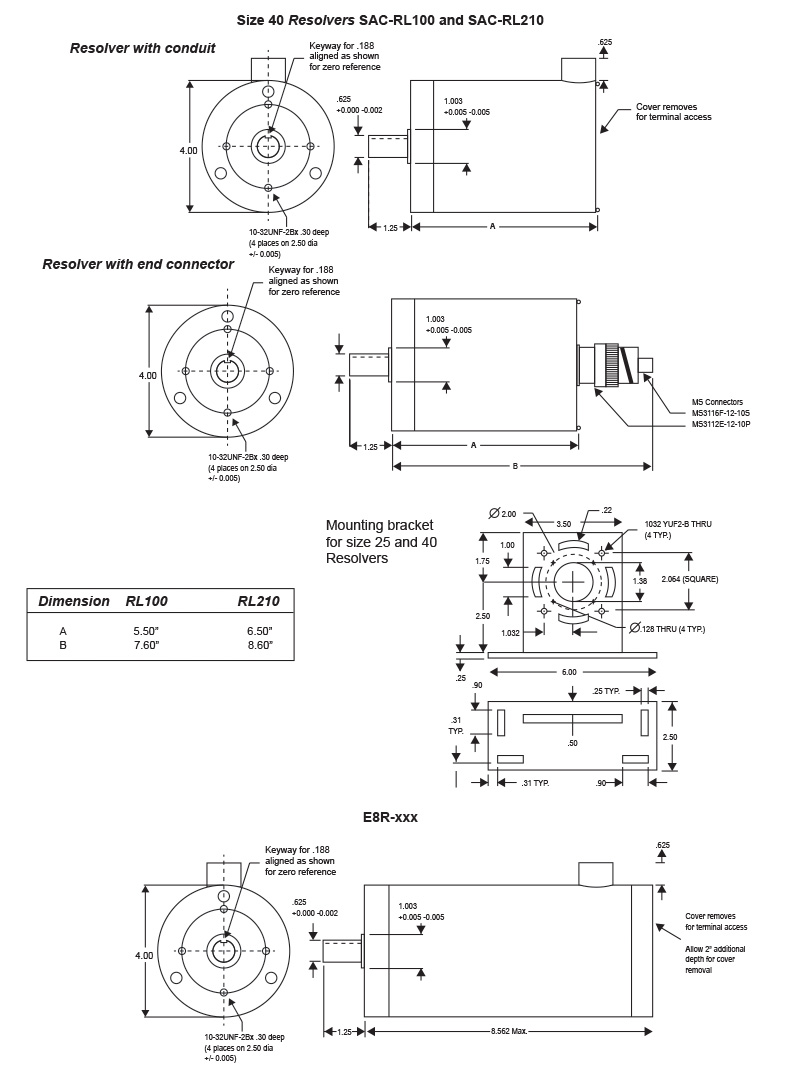 For ordering information or sales/technical support, call 1-800-832-3647 or email us at support.auto@avg.net.
We accept