Size 40 Submersible Geared Multi-turn

Submersible Size 40 (4.0" diameter) Submersible Resolvers are applicable in mining, off-shore drilling, gate monitoring (dams, locks, etc), and hydro-electric operations.

Dual Resolvers for Multi-Turn Application
A multi-turn resolver consists of two resolvers coupled to each other through a gear train. One of the resolvers, called the fine resolver, is coupled to the machine shaft in such a way that it turns at the same RPM as the machine, while the other resolver, called the coarse resolver, is geared down by the gear ratio used. As the shaft of the multi-turn resolver turns with the machine movement, the coarse resolver keeps track of the number of revolutions and the fine resolver keeps track of the shaft position in each revolution. Thus the combination of the two resolver signals gives the absolute machine position. The gear train uses an anti-backlash gear to eliminate backlash errors.
Part Numbers
Size 40 Submersible Dual Multi-Turn Resolvers

Size 40 = 4.0" (101.6 mm) diameter housing

SAS-RL210 -G X1 X2

Dual brushless resolver, multi-turn, submersible resolver with built-in gear train between the 2 resolvers, NEMA 8P, with MS connector and 5/8" dia. shaft

x1 = Face Plate

S:

Square Face Plate

R:

Round Face Plate

X2 = Gear Ratioear Ratio (Consult factory for other gear ratios)
016 16:1 Gear Ratio
032

32:1 Gear Ratio

064

64:1 Gear Ratio

128

128:1 Gear Ratio

Note: Use with submersible cables

<![if !supportMisalignedColumns]>
<![endif]>
Specifications
Mechanical
Resolver
SAC-RL100
SAC-RL210
E8R-RL101
E8R-RL210-xxxMC
E6R-RL101
E7R-RL101
SAC-RL101
SAS-RL101-RM11
Housing Size
Size 40
(4.0² dia.)
Size 40 , Explosion
Proof (4.0² dia.)
Size 25
(2.5² dia.)
Size 11
(1.1² dia.)
Size 40, Submersible
(4.0² dia.) (316 SS)
Max. Stating Torque @ 25 deg. C (oz-in)
8
8
5
0.07
8
Moment of Inertia
(gm/cm2)
45
45
45
3.3
45
Max. Slew Speed (RPM):
5000
5000
5000
3600
100
Shaft Size
5/8"
5/8"
3/8"
0.120"
5/8" (316 SS)
Max. Shaft Loading:
Axial (lbs):
Radial (lbs):

50
100

50
100

40
6(E6R), 36 (E7R)

0.3
0.7

50
100
Bearing life at Max.
Mfr. Spec. (Rev.)
2x109
2x109
2x109
2x109
2x109
Approx. Weight (lbs):
6
8
1
0.25
11

Environmental

Shock
200g for 11 mSec.
50g for 11
mSec
200g for 11 mSec
Vibration
20g to 2000Hz
15g to 2000
Hz
20g to 2000 Hz
Operating Temperature
-67 to 248° F
29 to 100° F
Storage Temperature
-85 to 302° F
-20 to 180° F
Enclosure
NEMA 13
NEMA 4X Class I,
Div I, Groups B, C, D
NEMA 13
NEMA 1
NEMA 6P
Special Features
Submerged Working
Depth = 100 Ft.
Chemically resistant
to wide variety of solvents,
hydrocarbons,
water, and sea water.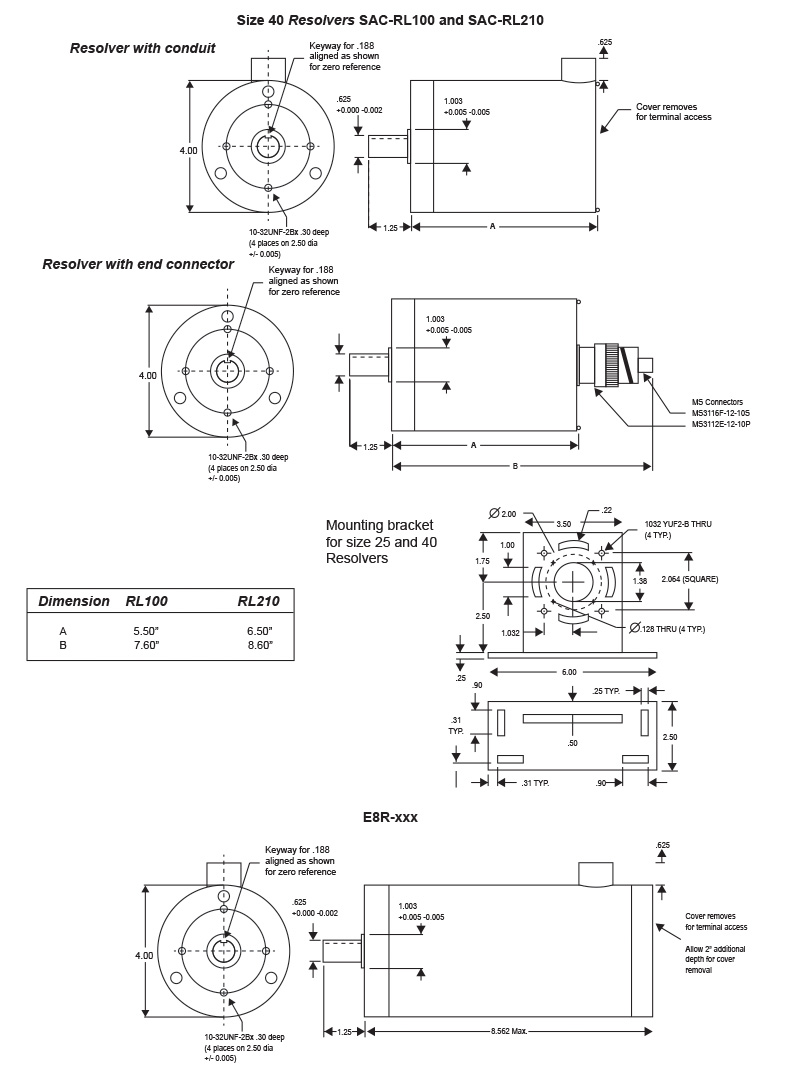 For ordering information or sales/technical support, call 1-800-832-3647 or email us at support.auto@avg.net.
We accept